Destination weddings are so exciting and so much fun. Needless to say, Las Vegas is the wedding capital of the world. Wedding Statistics reports that in 2019 over 85,000 couples said I Do in Las Vegas. The energy, glitz, glamour, history and yes 24-hour nightlife makes it a perfect location for the adventurous couple.
So it was no surprise to me that my son, Brian and his fiancee, Rachel, would select Las Vegas as their 2018 wedding destination. And why not? The possibilities are endless.
Viva Las Vegas
Las Vegas is one of the few places that no matter what your heart desires you can make it happen. A ride in a gondola, pictures by the Eiffel Tower or a wedding in the desert, all of this can happen in one place, Las Vegas. If you can dream it, they can do it.
Below are some of the things to consider when planning to say I Do in Las Vegas and Rachel and Brian's selections for their big day.
Selecting a Date
So if you haven't heard, Las Vegas is in the middle of the Mojave Desert. If you have always dreamed of a June wedding, that may come with a temperature exceeding 100ºF. The hottest months in Vegas are probably June – August, but there have been times when a December heat wave has taken place as well. Just make sure you take into account if you are having an outdoor wedding/reception when deciding on your date and the comfort of your guests as well as how hot you will be in a gown, suit or tux.
Thankfully Brian and Rachel chose early October and it was a sunny and a cool 80ºF throughout our time there.
Tip: Las Vegas is also a prime location for conventions and concerts so I suggest you check the Convention Calendar before setting a date. It may mean the hotel you want may be full.
Selecting Your Ceremony and Reception Venue
Before you say I Do in Las Vegas, there is a lot of planning involved. You will have to have an estimated guest count before starting to look at venues. I suggest going a little on the higher end, after all this is Las Vegas and people tend to say yes. Based on your budget, this number will be helpful in deciding the style of your reception and venue. Are you having a brunch wedding, sit-down dinner or a cocktail reception?
Make sure to have a clear direction before you start researching online or contacting local professionals. Providing them with details can help them to quickly focus on your needs and provide you the choices you want.
Hotels on the Las Vegas Strip have wedding chapels and venues with dedicated event planning staff that will be more than happy to help you plan your day.
Brian and Rachel's ceremony took place at the Silver Sky Chapel at The LINQ Hotel. It was a beautiful intimate setting with all of the glamour and elegance of a Las Vegas Wedding. The reception took place at a private room at Joe's Seafood, Prime Steak & Stone Crab Restaurant located in The Forum Shops at Caesars Palace. The Gigi Room was a beautiful, circular room inspired by the opulent Art Deco style of the 1930's.
Tip: Visit theKnot's Las Vegas venue page to help you select your dream location
Hotel for Guests
It would be ideal if you selected to have your ceremony and reception in a hotel where guests could also stay. However, if you choose venues around the Las Vegas area, think of the most convenient location for guests so that they don't have to rent cars to get around. Reserve your guest room block far in advance to so that you get your preferred hotel for guests.
Tip: Most hotels have a minimum of room blocks required, so make sure you are comfortable with committing before signing.
Brian and Rachel chose Flamingo Las Vegas and it was perfect, because The LINQ was right next door for the ceremony and the reception was across the street. This allowed guests to return to their rooms and freshen up before the reception.
Flamingo Las Vegas has one of the most beautiful gardens on the strip with live Flamingos, providing a stunning backdrop for pictures as well.
Tip: In Las Vegas, you can apply for your marriage license online up to sixty days in advance. Please note, that both people getting married must appear in person with proper ID at the county clerk's office to receive the license.
To DIY or Not to DIY
If you are having a destination wedding and are wanting to DIY some of your items, I encourage you to think of the following before you decide:
What can you take on the plane with you. Maybe an extra suitcase for seating cards, signs, favors, etc.
Shipping costs for more fragile, heavier items like centerpieces
Will the venue or hotel accept the shipped items in advance of the wedding? If not, what do you do?
If you ship the items to the hotel, how will you get everything to the reception venue?
What happens if the items get lost? What is your Plan B?
Just some things to think about before you decide what you will make and take or ship to the location and what you can buy or rent locally.
For Rachel and Brian, we made their:
Wedding invitations
Table signs
Seating cards
Gift card box
Photo Scavenger Hunt signs.
These were all things that could easily be transported. Rachel also shipped the table centerpieces. They were glass cylinders with rose petals and a tealight. With much bubble wrapping and careful packaging everything made it there in one piece.
Special Touches
Make sure you remember that people will be taking time off of work and, in some instances, spending a lot of money to travel to your chosen destination to share in your day. So provide your guests with special touches. Whether it be a welcome gift, coordinate a fun gathering the day before the wedding or add a fun experience at the wedding. Make it memorable for you and for them.
Rachel and Brian had a Cocktail Party with guests to ride the High Roller at the LINQ the day before the wedding, a Caricature Artist at the wedding reception and a wedding after-party for those who still had the energy. Guests loved being able to enjoy each other's company before, during and after the wedding.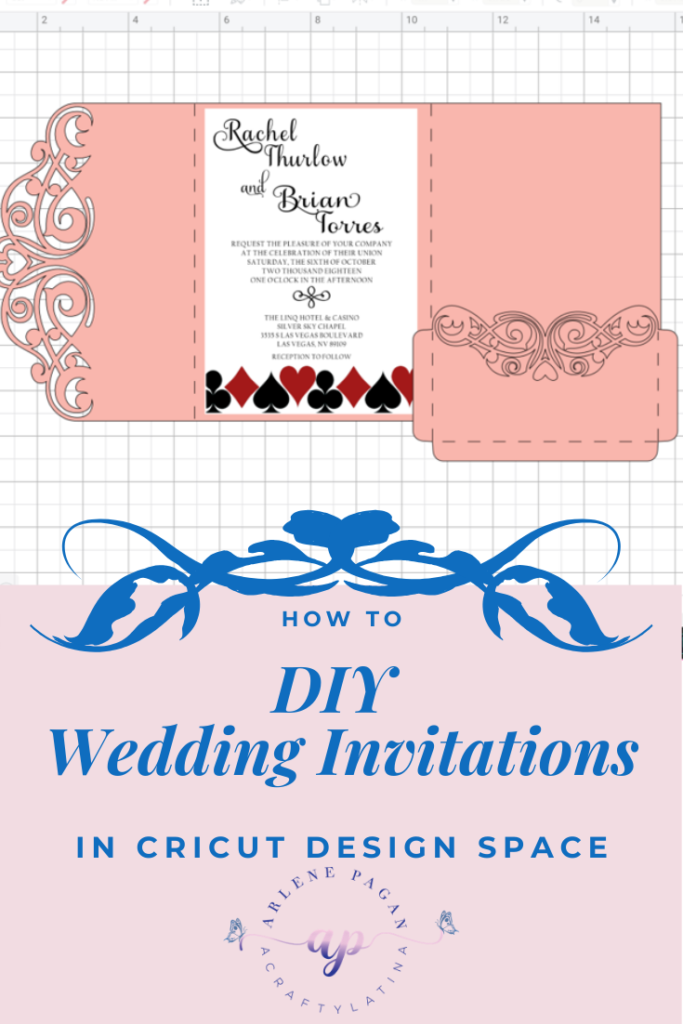 Related Articles:
How to use Cricut Design Space on your Ipad