One of the main reasons I love my Cricut is the ability to create great decorations for special occasions and for holidays. I think this year more than ever we should celebrate the Birth of Our Nation so I created some fun 4th of July decor with Cricut.
I selected a couple of fun projects from Design Space and sized them to be made on 8 ½ x 11 paper. Although I love my 12 x 12 paper packs, I think most people would like to be able to create projects using 8 ½ x 11 paper as it is more economical and easier to get in a variety of colors. I usually use Recollections Paper Packs from Michaels and Neenah Astrobrights from Amazon. However, feel free to resize the projects to make them as big as you want.
My files from Design Space can be found in the Resource Library. Click below to access. Also, make sure to watch the video at the bottom where I show you how to assemble these projects.
Stars & Stripes & Fireworks Rosettes
How fun and festive are these little beauties, right? They take no time to make and will add such a festive touch to your fun 4th of July decor. So let's get started.
Supplies needed:
This post contains some affiliate links for your convenience; this means if you make a purchase after clicking a link I will earn a small commission but it won't cost you a penny more it will just help me to continue to be able to provide you great tutorials and free projects. As an Amazon Associate I earn from qualifying purchases.
Cricut Machine – https://shrsl.com/2cfpv
Scoring wheel/stylus – https://shrsl.com/2co63
Blue cutting mat – https://amzn.to/2YuekGn
Red cardstock – https://amzn.to/3hYJw8z
Blue cardstock – https://amzn.to/2Bxoopb
White cardstock – https://amzn.to/37YH9Oj
Hot glue gun – https://amzn.to/3exLNWe
Gorilla Glue Sticks – https://amzn.to/3dr6C4c
If you use the Stars & Stripes Center or the Fireworks Center, these are Print then Cut projects, so you will also need:
Inkjet Printer – https://amzn.to/337fs5c
White Cardstock – https://amzn.to/37YH9Oj
If you need more information on the print then cut process, click below.
On Design Space
Once you select the design space file for the project you want to make and open it, you will see all of the pieces necessary for that particular rosette.
Stars & Stripes
Image #M4738A on Desing Space – In this project you have 6 different rosette panels with the scoring lines already attached. For the sample I created, there are 2 of each color and so that I could fit both on an 8 ½ x 11 piece of cardstock, they are sized at 8" x 4.565". You will also see 2 3" circles and the print then cut piece that will go in the center of your finished product, Stars and Stripes.
TIP: I cut cardstock on the blue mat and use the cardstock+ setting on my machine.
Fireworks Rosette
This one is very similar to the one above with 6 panels; however, I made them all the same color. For 2 panels to fit on one 8 ½ x 11 piece of cardstock, I sized them at 6.688" x 4.008". You should also have the 2, 3" circles and the fireworks piece that will go in the center. The fireworks piece will also be a print then cut image.
NOTE: You don't only have to make these as fun 4th of July decor with your Cricut, or just make in these colors, you can use any color cardstock, patterned paper, etc. for all parties. Here are some I made for my son and his wife's baby shower.
Assembling Rosettes
This process will be the same for both rosette styles. Once you have all of the pieces cut out. Take your first panel with the flat side facing the left and the small cut out edge to your right. You will then start folding the panels from left to right like an accordion with the first fold going upwards. Your scoring lines are there to guide you so this should be a fairly quick process. Do the same with all 6 panels.
TIP: Please make sure to watch the video for demonstration.
When you have all of the panels folded, you will then put some glue on the small flap on the left hand side and align the flat side of another panel on top of that so that the 2 ends meet. You will repeat that process until you have joined all 6 panels making a circle.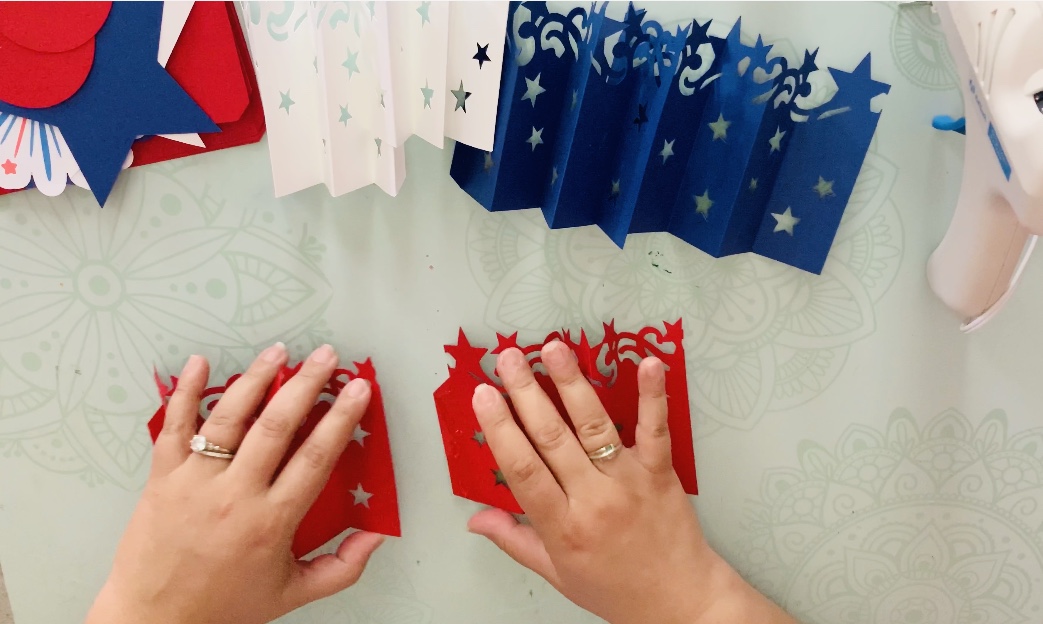 Lay the circle on the table with the design at the top. Start pinching the bottom corners together and try to get it to lay flat. This process will take a while to master in the beginning, but once you figure out how to do it, it will be super easy. The goal here is to get the bottom piece to join together so that the top fans out with the design facing outwards. You should have a hole in the middle of the circle.
Final Touches
When you've made the rosette shape and it's laying flat, put something light on top of it just to hold it in place. If you let it go, it will disassemble and you will have to repeat the process again. Put glue on the perimeter of one of the 3" circles. Don't put glue in the middle as that will be in the rosette hole and will not stick to anything and will just drip down onto your surface.
Squish (is that even a word?) the rosette together to make the hole small if you'd like, or if you want a bigger rosette, you can leave the hole up to 2.5" open. The cut out circle must cover the hole. Place it on top and hold down until the glue is cool to the touch. Turn the rosette around and repeat the process on the other side. The goal is to get the pleats to stick to the cutout center so that it stays open.
Your rosette should be very sturdy now and you can let it go. The final step is to glue on the center of the front side of the rosette and hang it. You can also use the 3D foam stickers to give it some dimension.
Hanging Options
There are many ways you can hang your rosettes.
a) You can use fish wire, make a loop and glue to the back of the rosette
b) You can feed the fish wire through either the diamond pattern or one of the cutout stars and make a knot.
c) If placing on the wall, you can use double-stick tape, and
d) If you are making a backdrop design, you can use velcro to make sure they are sturdy.
e) For the display below, I velcroed the pieces together and then used the fish wire to hang it.
Make sure to watch the video below so that you can see the assembly process.
I hope you enjoy making these as much as I did, remember you can use these and customize for any event or holiday. Enjoy.
Remember to always love what you do and do what you love.
Related Articles:
What is Cricut Access? – Is it Worth it and Do I Need it?