There's so much mystery surrounding this product that I thought it was time I learned more about it and tried it myself. Well let's just say, it can definitely be a game changer or at least improve my game when it comes to iron-on crafting. Stick around as we go through everything you need to know about Cricut Infusible Ink.
What is Cricut Infusible Ink?
Basically, infusible ink is Cricut's answer to sublimation. There's a lot of molecular ink mumbo jumbo involved but the name says it all…it infuses the ink into your project. What we care about is that it transfers the ink permanently onto the surface and will stay on forever. YES, even on t-shirts through the wash, PERMANENTLY! This is why I say it can be a game changer; no more worrying about if your vinyl will stay on after it's been jumbled around in the wash.
How is Cricut Infusible Ink Different from HTV or Printable HTV?
HTV (heat transfer vinyl) is a thin layer of vinyl material that comes with an adhesive backing so when you apply heat to it it adheres to your surface. It can be applied on all types of fabrics, i.e., cotton, burlap, wood, canvas, etc. Unfortunately, through time, constant wear and washing the vinyl may start to lift off. This will last a long time; however, it is not permanent.
The printable transfer sheets are very similar to the HTV as it is a thin layer of vinyl that needs to be pressed on with an iron or heat press for it to adhere to the fabric. Again, great for a while but may come up in the wash. Also, you need to have an inkjet printer for this process.
To learn more about this process, view my blog on the print then cut process below.
What Can I Use Cricut Infusible Ink On?
Unlike HTV or regular vinyl where you can apply it to any surface, Infusible Ink can only be used with compatible surfaces. Cricut has done extensive testing on many products and have provided the ones that will bring out the most vibrant colors on safe surfaces for your projects. Also, if you are looking for surfaces in addition to those that Cricut provides, you need to make sure that fabrics are at least 65% polyester so that the color stands out and they need to be white or light colored. You can also use hard surfaces that are made for sublimation, i.e., ceramic coasters, certain mugs, metal, etc.
NOTE: Please make sure to research the surface you use to make sure it will work with this product, I cannot guarantee the final outcome.
30% OFF ALL INFUSIBLE INK PRODUCTS THROUGH 6/30/2020 – CLICK BELOW
Can I Layer 2 Cricut Infusible Ink Sheets?
Yes, technically you can layer one infusible ink transfer sheet over another; however, because of the intense heat needed, the colors may blend and you may not get the results you are looking for. The suggested way is if you are using 2 different designs and 2 different infusible ink color sheets, you should slice out the top design from the bottom layer so that it fits right in and not on top.
Can I Layer Regular HTV and Cricut Infusible Ink Sheets?
Guess what?? YES YOU CAN! But wait, make sure you do the infusible ink transfer sheet first, it needs to be the bottom design. You can then layer on your regular HTV on top of that. Make sure to follow the Cricut Heat Guide.
What Are the Cricut Infusible Ink Pens & Markers For?
Those are for you super artistic crafters that can now see their works of art on tshirts and other items. You can also use the drawing images from Cricut Design Space or write a message that you want to permanently keep on an item.
The pens and markers work the same way, one is just much thicker than the other. You would create your Design on Design Space, make sure it's set to draw and have your Cricut draw it for you with either the infusible ink pen or marker. Then place that design face down on your selected surface and press it on. You can also draw your designs freestyle with your infusible ink pens or markers.
NOTE: You need to use laser copy paper to draw on and then transfer that onto your surface. It is the recommended method from Cricut for maximum results. DO NOT draw directly on your infusible ink transfer sheets, that will damage your pens and ruin the ink on your transfer sheet.
Are Cricut Infusible Ink Transfer Sheets Reusable?
No, they are not. The process of infusible ink is that it removes the ink from the transfer sheet and infuses it into your surface. Therefore, there is no ink left on the transfer sheet to be used again.
Do I Need Any Special Equipment or Tools?
There are some items that are essential for your project to be successful. The surface as we discussed above is one of them. The other is the heating element. Cricut, of course, prefers that you use their EasyPress for this process. However, if you have a heat press or other press that can reach a temperature of 400 degrees, then you are fine. You will also need the following:
Heat mat to protect your table or surface
A piece of white cardstock that goes on top of your heat mat. It needs to be at least 80lbs and it must be white so that no color is transferred in the heating process.
Butcher paper. Each infusible ink transfer sheet box comes with 2 pieces of butcher paper.
A lint-free cloth. You get a small cloth inside your infusible ink transfer sheet box as well.
Heat resistant tape. If you are doing a design (like coasters) where you need to make sure your infusible ink transfer is on tight to the surface, you will need this tape. Regular scotch tape will not work, it will melt. Make sure you get heat resistant tape. Cricut sells their own but you can also get it on Amazon.
Tips:
Most Important – Make sure to wash your hands first. It is important that your hands are free of oils and lotions so that it does not interfere with the ink transfer process.
Store your pens face down so that the ink doesn't pool at the bottom and dry up the top.
Make sure your design fits under your EasyPress or heat press; you need to do it as 1 full application. This is not a project where you pick up the EasyPress and move it to another section. It should all be done in one shot.
Let the item cool completely, because of the intense heat needed the surface will be extremely hot when you remove your EasyPress. Give it at least 10 minutes and even then be cautious.
Once it's cool you can touch it. It's not like an inkjet where it may be wet in areas and you have to wait. No, as soon as it is done, it is permanently on.
You can find more information on Cricut's FAQs section.
My Turn & First Impressions
So I was very excited to try this and decided to start off simple and do some coasters. Well, let me tell you, I am thoroughly impressed with this product. Here's a full video of my process. I'm actually doing a coffee bar at home and will be making custom coasters with my name on them, I can't wait to see how they turn out.
I actually bought some non-Cricut blanks that I will be testing this week, so make sure to subscribe to my YouTube channel so that you get notified when I post new videos.
I hope you found this information helpful and that you try your own creations, I would love to see them. Please feel free to post any comments or suggestions below as well.
Remember to always Do What You Love, Love What You Do!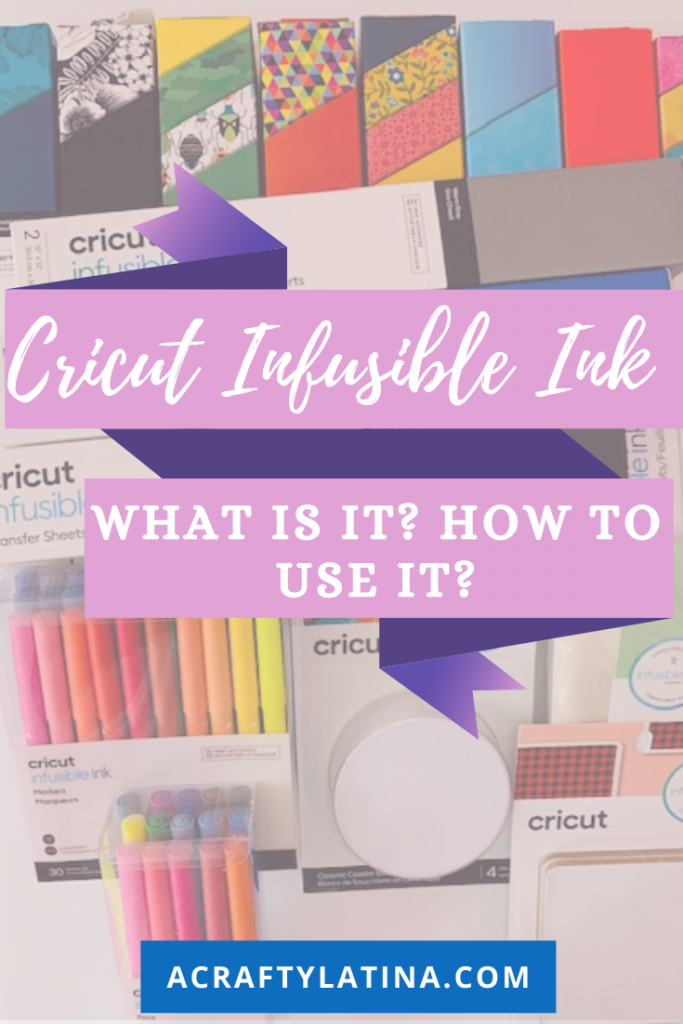 Related Articles:
Cricut Infusible Ink – What it is and How to Use It