Making wooden signs is a fun process but when you do it with Cricut it is even fun to do so. This is why today we shall be telling you the procedure on how to make wooden signs with your Cricut machine.
Procedure How to Make Wood Signs with Cricut Machine
The first thing you will need to do is gather the supplies you will need to make a wooden sign. You will need wood, paint, paintbrushes, Cricut, transfer tape, weeder tool, and adhesive vinyl. The next thing you'll need to do is create your design. Just like the one we've shown below:
After you've made your design, you will need to cut it out. Cut it out on vinyl and since you're only using the vinyl as a stencil, it doesn't have to be colored. It would be better if you cut your design on a mat but even if you don't use one, your project will turn out just fine. The next step is to weed your design which is removing your vinyl that you won't be using for your wooden sign. You can use a weeder tool to remove the smaller pieces of vinyl that can be tricky to grab with simply your fingers. After the weeding process, it is going to look something like this: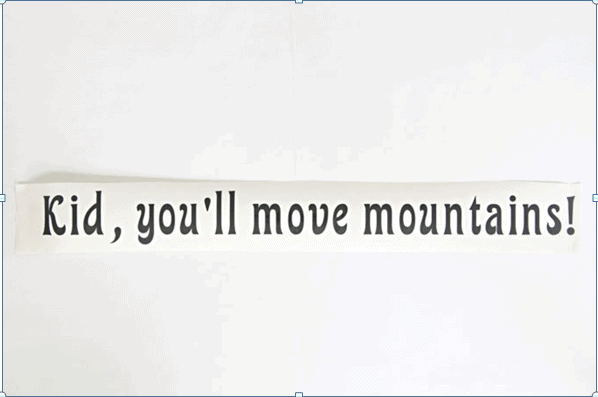 Now is the time to prepare your piece of wood and transfer the quote to the wooden sign. Use transfer tape to do so and lay the sticky part of the tape carefully across the wording. Use the scraper tool that you have to make sure the vinyl securely adheres to the transfer tape. After this, flip over your design so that the wording is facing down, leaving just the vinyl wording and the transfer tape. After you apply the sign on the piece of wood, you will need to prevent paint seepage. To do this, paint over the edges of the vinyl letters with the same color of white that was under them. Painting over the letters with the same color first seals the edges and keeps other colors from bleeding underneath them.
Once the paint over the vinyl letters is dry, you can then be ready to add some color to your sign. After that, peel off the vinyl paint and use the weeder tool to help pull up the letters without smudging the edges. Once the vinyl letters came off, the DIY sign just needs to be completely dry before you move on to the next step.
If you feel like carrying out further customization on your board then you can manage to do so easily. If you do add any other structures or designs to your sign then you will need to avoid paint seepage here as well. After you're done painting the new structures that you added, finally check for the small vinyl pieces that might be hanging around your sign. You can use a small paintbrush to do so after everything has dried.
After the final touchups are complete and the paint is dry, you can simply add a small saw-toothed picture hanger to the back of the sign and hang it anywhere you could like. This wooden sign that you've made is going to help you make wooden signs easily and you can do so without any hassle. Once you get a good hand at making DIY wooden signs this way, you can continue to design other signs with your Cricut machine as well.
We hope this entire procedure helped you in making a wooden sign for any place in your house which needs it the most.
Related Articles:
Sublimation to Expand Your Crafting Experience